Episode #56 - "Topical Chairs: The Season 3 Finale"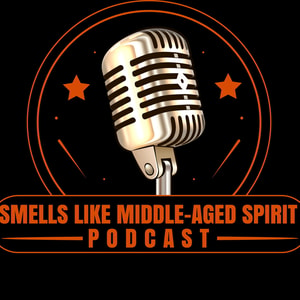 Welp!!! Season 3 has come to a close and because we finally got here though a myriad of adversity, we are celebrating!! If you're tired of hearing Nick talk all the time, we'll this is your episode! Everyone gets a turn at the captains chair for 15 minutes to talk about whatever they want! Including our special guests, Whitney Stevenson and Ashley Lopez! We even had our first studio audience of one, Mike Evans.… if you don't know him.… you will. So buckle up and enjoy the show, featuring some best of season 3 clips for your pleasure!
Enjoying the show? Leave us a tip at http://bit.ly/JustTheTipTX We appreciate so much your support and all tips go to keeping the show running!
Want to rep your favorite podcast in style? Check out our online merchandise store: SpiritSwaggStore.com
funny #SmellsLikeMiddleAgedSpirit #podcast
SmellsLikeMiddleAgedSpirit #Funny #SeasonFinale
Support Smells Like Middle-Aged Spirit Podcast by contributing to their Tip Jar: https://tips.pinecast.com/jar/smells-like-middle-aged-spirit
Find out more at http://smellslikemiddleagedspiritpodcast.com
This podcast is powered by Pinecast.