Episode #57 - "The Season 4 Premiere"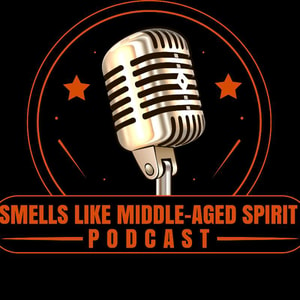 Season 4 kicks off with a new twist!! Smells Like Middle-Aged Spirit Podcast goes LIVE every Thursday at 7:30 PM CST! This new feature allows us to let the audience join the conversation. A feature that immediately paid off in this Season Premiere! We got caught up on some of the things that happened while we were away, and even made some big announcements! There was a great mix of fun topics such as the awesomeness that was SPIDER-MAN NWH, and "Dem Boyz" gettin bounced in the 1st round of the playoffs, to the more serious topics such as the debate about artists removing music from Spotify in protest of Joe Rogan. We went a little longer than usual, but we are sure that you will enjoy the conversation and maybe even have the urge to share you opinions with us! We top it all off with a great prank call of one of our favorite sponsors!
You can Subscribe on our YouTube Channel (YouTube.com/c/SmellsLikeMiddleAgedSpiritPodcast) and share with us in conversation, or if you prefer to keep listening you can interact with us on social media. Follow our FB, IG, and TikTok! Whether you're watching or listening we thank you so much for the support!
Enjoying the show? Leave us a tip at http://bit.ly/JustTheTipTX We appreciate so much your support and all tips go to keeping the show running!
Want to rep your favorite podcast in style? Check out our online merchandise store: SpiritSwaggStore.com
Support Smells Like Middle-Aged Spirit Podcast by contributing to their Tip Jar: https://tips.pinecast.com/jar/smells-like-middle-aged-spirit
Find out more at http://smellslikemiddleagedspiritpodcast.com
This podcast is powered by Pinecast.